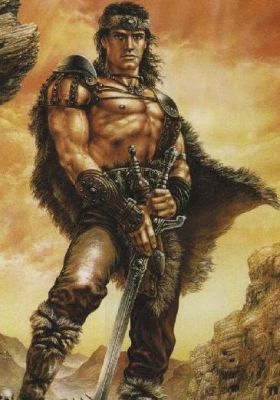 Kudgel the Fighter

Level

Experience

Hit Points

STR
INT
WIS 
DEX
CON
CHA

Armor Class

Armor Class Breakdown :

Languages :  Common, Elven, Dwarven

Skills :

Sailing & Navigation
Swimming
Trading
Teamster



History

Kudgel grew up in Narga. His father was a merchant lord, and he learned the arts of sailing and navigation trading with Actum and Videssos. He also journeyed on trading missions to the elven and dwarven lands. His father was not a very trusting man, and would often accompany his merchants ... dragging Kudgel along.

He learned combat from the warriors guarding the caravans and ships. He is an expert on rope use, and well skilled in the use of grapple and lasso. He distains armor heavier than leather, having seen men dragged into the depths of the ocean wearing heavy protection.

He preferrs to fight with a bastard sword, and spiked buckler.